Procter & Gamble spends approximately $7 billion each year on various forms of advertising, and operates more than 60 different consumer goods brands. Over the past few years, the CPG giant has been exploring media agency models, working with different holding companies and bringing in up to 30% of of its media buying campaigns in-house. P&G cut more than $200 million worth of agency and production related costs in 2020, which has been reinvested into other parts of media buying.
Over the past few weeks, Adalytics has assembled a small dataset of recorded ad impressions from P&G's display ad campaigns, including header bidding data on how much P&G is paying for individual impressions per ad campaign. This dataset offers a small glimpse into the programmatic strategy of one of the world's largest advertisers by ad spend.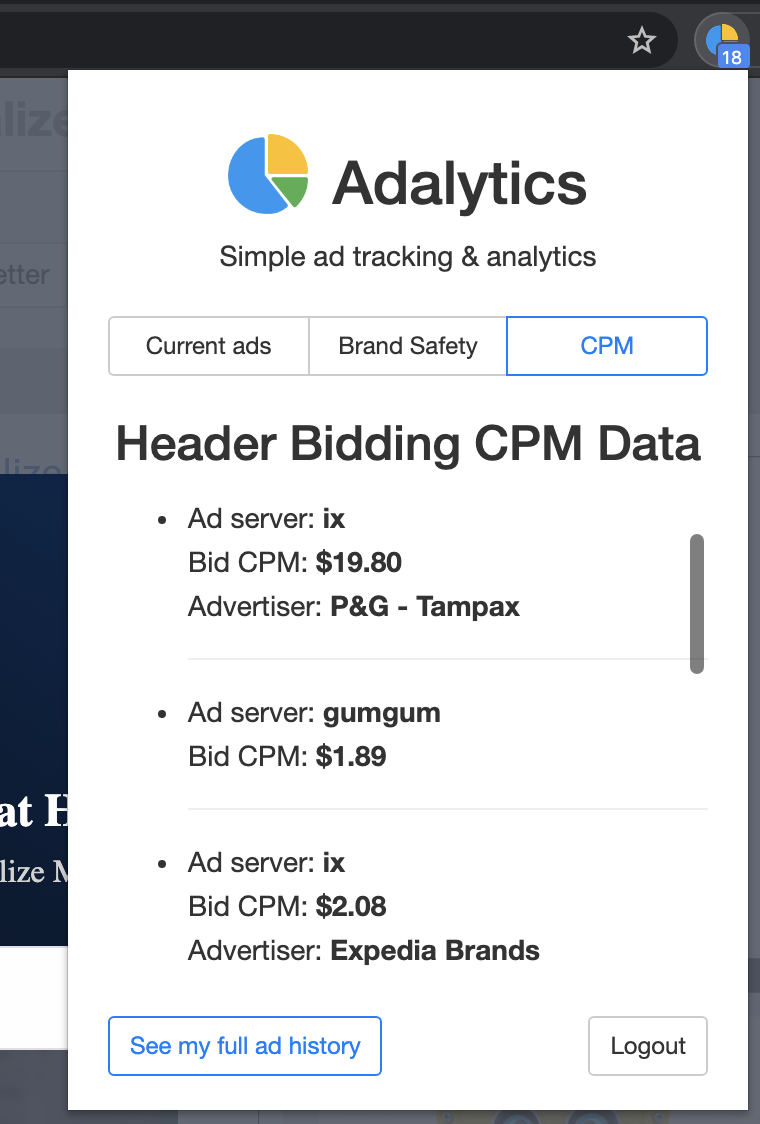 Screenshot of the Adalytics browser extension, showing CPM data on a specific website for P&G Tampax (among other ads).
P&G was observed running programmatic campaigns for several of its consumer goods brands, such as the laundry detergent Tide, air freshener Febreze, and dish soap Dawn. P&G appears to be working with the Canada-based ad exchange company Index Exchange (formerly known as Casale Media) for its real time bidding campaigns, and using Oracle Moat for brand suitability and measurement verification needs.
Screenshot showing Index Exchange bid server being utilized alongside P&G ad creatives.
P&G was observed spending up to $19.80 CPM for its tampon Tampax ads, and between $1.58 to $14.85 CPM for Febreze ads. $10.00 CPM were observed for both toilet paper Charmin and tooth-paste Crest ads as well. These higher CPM values were all VAST embedded video ads. The ads were observed on various Home & Garden, LifeStyle, and Motherhood website pages, though many of these publishers were not high traffic sites. In some cases, ads were seen on websites that were not in the Alexa one million list, which ranks the most popular websites on the internet by traffic count. 
Interactive AirTable showing the maximum, average, and minimum CPM values observed for various P&G display ad campaigns on the open web.
CPMs for dish soap brand Dawn ads ranged from $0.75 to $5.55, while ads for laundry detergent Tide (P&G's top performing product brand) were observed with $0.73 - $0.85 CPM. Both of these ads campaigns were seen running display banner rather than video ads, which could explain the much lower CPMs.
👉  Are you an advertiser or media buyer who wants to conduct a deeper analysis of your ad campaign data? Reach out over Twitter @kfranasz or the Contact page.